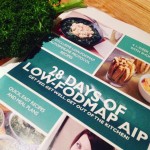 I've been warming up over November and December, getting my head around what I can eat and not eat, trying out different recipes, then happily forgetting (mostly) all about it over the Christmas and then also the New Year family celebrations… but now its January 2nd;  time to go with the Low FODMAP Autoimmune Paleo (AIP) 28 day protocol.
I'll explain what this is and why I am doing it in another post….but right now I am thinking about;
Staying Focused
Red Grapes are the New Chocolate
I have my 'Avoid' and 'Eat' checklists on the fridge, but the thing I am concerned about is loosing focus and eating something on impulse that I am not supposed to, probably something sweet, and swallowing it before I have even had time to think about the fact that I am not supposed to be having that food this month!  To prevent this happening I am keeping stocked up with emergency red grapes that I can graze on (red grapes are the new chocolate!), as and when I want something sweet, and bananas as well.  I'm not used to eating that much fruit, but seeing as grains are out, nuts are out and even a lot of starchy carbs like butternut squash and sweet potato are out – then I've decided I am not definitely going to worry about fruit consumption this month.  I'll just give my teeth a little extra TLC.
White Ribbons
I've tied white ribbons around my wrists so that if my cheeky little fingers reach out for the non Low Fodmap AIP treats then I will get a visual reminder of what I am doing and hopefully be able to restrain myself.  I also have post-it notes on the cupboards and on my computer – lots of little reminders around the house and the office to keep me on track.
80 / 20 is for wussies!
Normally the 80/20 rule is a good one to adopt.  This means that you eat what your protocol recommends most of the time but not completely rigidly, so you might take Sundays off or have the odd treat throughout the week.  However the idea with the AIP plan is that you follow it 100% for 30 days, because if you are having autoimmune reactions to foods then these can last for a long time, I guess as long as the antibodies survive for in the body.  This makes sense but also makes it a lot more important to stay focused.  I saw yesterday that, as a joke, somebody had created a batch of t.shirts with the slogan on '80/20 is for wussies.'
Batch Cooking
Today I am doing a huge batch cooking session for the freezer, so that I am stocked up with supplies; soups, smoothies, burgers, plantain flatbread and other bits and pieces.  I've surrendered to, and then also found comfort in, the idea that I might eat the same thing pretty much every other day for a while.  This seems the easiest way to keep organised and also get into a rhythm.  More ideas will come with time.
I have another batch cooking date booked in the diary for two weeks time, as I know that if I don't schedule time to keep up with this protocol then life will take over and I will run out of back-up meals.
Any society is only three meals away from anarchy
Its been interesting to observe that I feel much more secure with a freezer stocked full of AIP meals and that without this I can feel a niggling anxiety that I might not have anything to eat.  On the surface this seems silly, I live in a 24 hour city with 5 supermarkets on my doorstep, so I could just push the feeling away but actually I think it is something to really listen to and act upon.
Food security is absolutely vital.  There is a famous saying 'any society is only three meals away from anarchy' – take away enough meals and the looting, stealing and chaos begins.  We want to feel that we don't need to worry about food, so planning and batch cooking especially at the beginning of a new dietary regime is essential.
Support
Friends
I've scheduled mutual-support telephone check-in sessions with friends who are getting into their own dietary regimes for January, again mainly to help keep the focus on what I'm doing, but also for ideas…and just for fun.
Guides & Online Community
I have the 28 Days of Low-Fodmap AIP guide ebook by Christine Feindel.  I also have the Autoimmune Connection Youtube videos to keep me company.  I listen to them while I am deep in batch cooking and kitchen hibernation.
Anyway, for now back to my batch soup making…. kale & celeriac soup with bacon.  It's ready!