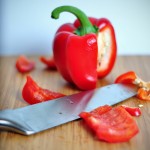 Lactic acid created by the lactobacilli help with digestion by breaking down the foods. This process makes a relish such as this an ideal condiment to add to any meal.
Ingredients

4 ripe tomatoes, peeled, seeded and chopped
1 bunch of spring onions, chopped
1 green pepper, seeded and chopped
2 red chillies, seeded and chopped
1 bunch of coriander, chopped
3 cloves garlic, crushed
4 tablespoons of whey
10g sea salt
1/2 cup of filtered water

Method
Peel tomatoes by first blanching in boiling water.
Mix all ingredients in a bowl and pound them lightly with a pestle, flat end of rolling pin or wooden meat hammer.
Place in a wide mouthed jar and press down lightly with your utensil until the liquid completely covers the tomato mixture.
The top of the vegetables should be at least 2cm below the top of the jar.
Seal the jar and keep at room temperature for 1 week before transferring to cold storage. Undo the lid slightly each day that the jar is at room temperature to release any CO2.
*
Click here for more information on making successful ferments.
This recipe comes from Nourishing Traditions by Sally Fallon, co-founder of the Weston Price Foundation.