This treat of a recipe is not sweet as such, but the ingredients still melt in the mouth in that glorious chocolatey way.  If you are happy to eat cashew nut or coconut butter from the spoon, and are looking to substantially reduce your sugar/sweetener intake, then this could be heaven in a moment for you!
Adapted from a fudge recipe by Sarah Wilson's I quit sugar.
I have recently been working to reduce almost all sweeteners and sugars in my diet, but I didn't want to loose out on the healthy fats, like cacao butter, at the same time.  I'm therefore super happy with this creation! There is just a little thaumatin from the protein powder in this recipe.  I have other ideas on the hob for a recipe with plain protein powder, so watch this space for updates.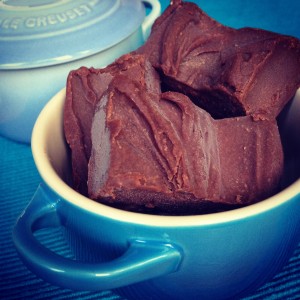 Ingredients
2 x 170g pots of Biona cashew nut butter
1/2 cup raw cacao powder
1/2 cup Vital protein powder, vanilla
1/2 cup of coconut cream
Use a healthy brand, as Biona.  It helps if you put the can in the fridge so that the cream solidifies.
1/4 cup cacao butter
1/4 cup coconut butter
Pinch of salt
Method
Line a tray with greased baking paper
Sieve cacao powder and protein powder together and set aside.
Gently melt both the coconut butter and the cacao butter in a bain-marie
Meanwhile gently warm the cashew nut butter in a pan. Stir in the coconut cream and the sieved powders, plus salt.
Add the melted coconut butter and cacao butter, take off the heat and stir thoroughly.
Pour into the lined tray and freeze for 30 minutes.
Remove fudge from the tray and cut into individual squares. You can wrap each in cling film or paper if you wish.
Keep in the fridge or the freezer
Tips
If you find that this recipe is too bitter for you then you can reduce the cacao powder (cacao is bitter) and instead add more coconut cream.