This yummy recipe is low FODMAP diet friendly and makes a hearty afternoon pick-me up treat.  If you can go the extra step to freshly grind your own cinnamon you will really notice the difference.  I'm very interested in the Low FODMAP approach because of the links between asthma and gut health.
Ingredients
1 cup brown rice flour
1/2 cup corn flour
1/2 cup soy flour
3 tsp gluten free baking powder
2 tbsp ground cinnamon*
1/2 tbsp ground nutmeg*
1/2 tbsp ground ginger
1/4 tbsp ground all spice*
1/4 tbsp ground cloves*
1 tsp xanthan gum (or arrowroot)
3 eggs
3/4 cup mild olive oil
3/4 cup rice milk (or other suitable plant milk)
1/3 cup chia seeds
1/2 cup hulled sunflower seeds
1/2 cup pumpkin seeds
1/2 – 2/3 cup of light brown sugar
1/2 tsp sea salt
* I use fresh, home-ground spices which really add something special to this recipe.
Makes approx. 24 small muffins
Tip: Often when making this recipe I will measure out all of the ingredients the night before, but then actually make the muffins the following evening, as it is quite a bit to do in one go.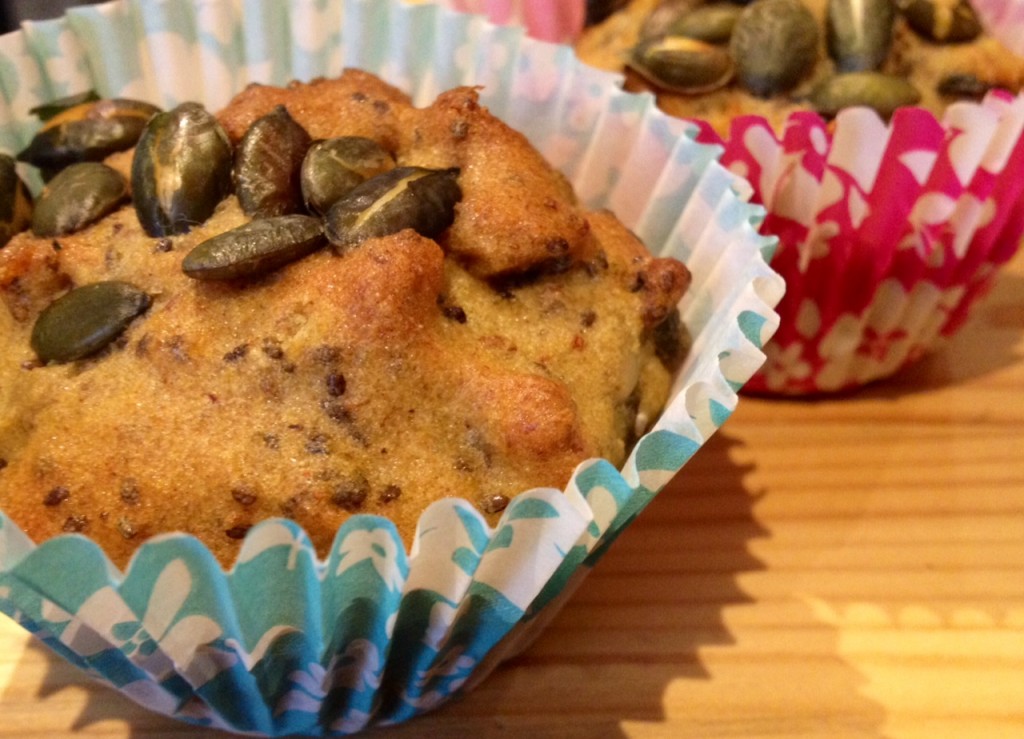 Method
Preheat the oven to 170C.  Grease 24 muffin cases.
Sift the brown rice flour, corn flour, soya flour, baking powder, spices and xanthan gum three times into a large bowl.
Place a small covered frying pan, dry, on a high heat for several minutes, until it is very hot.  Turn off the heat and dry roast the seeds in small batches.  Toss the pan to prevent them from burning/sticking.  Transfer to a bowl when done.
Place the eggs, oil, rice milk, chia seeds, sunflower seeds, 2/3 of the pumpkin seeds and the brown sugar into a medium bowl and mix with a wooden spoon until well combined.  Pour into the sifted flours and mix well with a wooden spoon for 2 to 3 minutes.
Spoon the mixture into the muffin cups, and lightly push the remaining pumpkin seeds onto the top of the mix, to decorate.  Bake for 20 to 25 minutes, until firm to the touch.  Remove from the oven and allow to cool for 5 minutes on the tray before transferring to a wire rack to cool completely.
Enjoy!