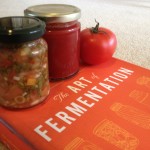 The word 'ketchup' comes from the old Indonesian 'Ketjap' which is a fermented sauce. This tasty condiment is a favourite with kids of all ages.

Ingredients

3 cups of tomato puree (preferably organic)
1/4 cup of whey
10g of sea salt
1/2 cup maple syrup
1/4 tsp cayenne pepper
3 cloves garlic, crushed
1/2 cup of fish sauce (make your own or buy a commercial variety)
Method
Mix all ingredients until well blended.
Place in a wide mouthed jar.  The top of the ketchup should be at least 2cm below the top of the jar.
Seal the jar and leave out at room temperature for 5 days before transferring to cold storage.  Undo the lid slightly each day that the jar is at room temperature to release any CO2.
*
Click here for more information on making successful ferments.
This recipe comes from Nourishing Traditions by Sally Fallon, co-founder of the Weston Price Foundation.